If you missed our Heritage Day this year, here are few highlights of our programs. [Photos below taken and shared by Lita Sheldon]
We couldn't get pictures of everyone but we would like to thank those pictured below (scroll down!) and:
Luncheon speaker Harriet Baskas who entertained us thoroughly with her program  "Hidden Treasures in Washington's Museums". 
Thank you to her and to Sven Mogelgaard, "I Need A CTO" who helped us to avoid Getting Paid Without Getting Fleeced about the technology aspects of  E-payments for non-profit heritage groups on managing small business payments and merchant management at events or over the internet.
Thanks also to Tina Dinzl-Pederson who taught us how to conduct a local history geocaching program to promote our museums and historic places.  She can be found doing more of her programs at the Cama Beach State Park where she is the Interpretive Specialist at that historic park.
Thanks also to the Stanwood Area Historcial Society for hosting this wonderful event at their historic public hall – the Floyd Norgaard Cultural Center,  which was well attended and provided a full day of heritage – related information for us to learn.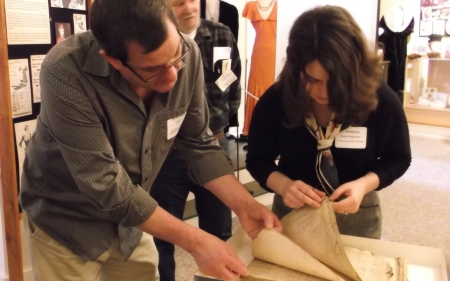 Emily Pellichero (center, of the Conservation Studio of Seattle) is examining a ledger brought by Kevin Stadler (left) from the Alderwood Manor collection to analyze how it can be preserved.
Emily presented her workshop on ways in which works of art and archival documents on paper can become damaged with time, as well as some techniques conservators employ to deal with these types of damage. http://www.conservationstudioseattle.com