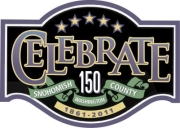 From: Wendy Becker
Date: Wed, Oct 20, 2010 at 4:21 PM
Subject: Celebrate Snohomish County's 150th Birthday
*RESPECTING THE PAST – CELEBRATING THE PRESENT – EMBRACING THE FUTURE*
*HAPPY 150th BIRTHDAY SNOHOMISH COUNTY*
Fertile farmland, easy water access and abundant forests attracted settlers, who clustered in the Lowell, Monroe, Stanwood and Edmonds areas in the mid 1800s. When Washington became a state in 1889, Snohomish was the county's most well-developed cultural and political center. As the population grew, local settlers petitioned the territorial legislature to create a separate
county. On *January 14, 1861*, that petition was granted.
* Say hello to Snohomish County! *
150 years later – Snohomish County is still a cultural and political center. Aerospace, biotech and clean energy lure more investment – and a rich cultural heritage gives us a reason to celebrate. *So celebrate we will!*
***********
Snohomish County's commemoration of its 150th birthday merits countywide
recognition. Here are some ideas to get you involved throughout 2011.
*Heritage Organizations:
· A history exhibit featuring a unique time in Snohomish County's history
· A lecture series featuring a talk on local pioneer leaders
· A brownbag discussion on the history of the interurban trail
· Historic walking tour of downtown. Choose a city – What has changed?
What has stayed the same?
*Businesses:
· Restaurants – create a signature meal or cocktail commemorating our 150th Birthday.
· Retail – a window display featuring an era in women's fashions during the past 150 years.
· Coffeehouses – have a poetry night featuring the great poets of the '60s.
· Tribes – a weekend birthday package and a Native American commemorative.
· Everybody – Promote our 150th Birthday on a business marquee or sponsor a local event banner placement
*Arts Organizations:
· A landscape exhibit featuring photography from 50 years ago and what the landscape looks like today
· A theater reenactment of the Taking of the County seat.
· Book Clubs – choose a title written by Snohomish County historians or authors
· An artist-designed 150 year commemorative display
*Cities & Civic Groups:
· Organize a time capsule event
· Add 150th birthday events to billings and newsletters
· Promote SnoCo150 with banners
· Be an event sponsor
*Citizens:
· Host a neighborhood potluck celebrating the County's birthday on *January 14, 2010*
· Find and feature history articles for neighborhood newsletters
***********
Snohomish County Historic Preservation Commission can provide participating groups with:
· A poster template with the Sesquicentennial Banner
· A 150th birthday logo to publicize your efforts
· A listing on www.snoco150.net website (under construction)
· A posting on the www.snoco150.net calendar of events (under construction
Find out more – contact Wendy Becker at wendy.becker at snoco.org.
Wendy Becker
Economic and Cultural Development Officer
Snohomish County
3000 Rockefeller Avenue MS 411
Everett, WA 98201
425.388.3186